State Officers:
---

Member of:
District 2
Number of Years in ABATE:
9 years
Positions held:
Dist 2 president for 6 years, State Co-Chairman for 3 years, and State Sgt. @ Arms for 1 year.
Comments:
I am the Chairman of ABATE of Arkansas for the 2nd year in a row and I am proud to serve our organization. I have been Co-Chairman for 3 years and Sergeant - at - arm for a year, also. I have been a board member for a year before I stepped up and got voted in as Sergeant at arms.
I have help organize and start the DARE biker Classic here in Jonesboro and the "Look Twice Save A Life" program and promote Motorcycle Awareness here in Northeast Arkansas.
I have 2 kids Jas is 17 and Kaycee is 13. Becky and I have been dating for almost 6 going on 7 years and alot of people say I'm lucky to have her and I say "Yes, I am".
This is a great organization and my main goal is to help it grow, there is NO reason why we cannot have 3,000 members in Arkansas. We need everyone in ABATE to do their part and recruit members, if everyone would get at least 1 new member we could double our membership.
For the 2nd year in a row I proudly serve you as Chairman of our GREAT organization.
---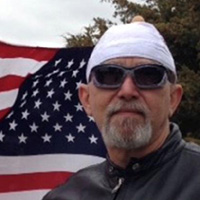 Co-Chairman: Jeff Loveless
Member of:
District 18
Number of Years in ABATE:
6 Years
Positions held:
State rep, District VP and President, MRF member
Comments:
When my wife Karon and I joined ABATE we just wanted to be with a group of like-minded folks who wanted to ride. The very next election I found myself elected vice-president and for 4 years now I have served as president of District 18. Initially elected as a state rep alternate, I've served our members as state rep for the last 5 years. Karon is currently D-18 Treasurer. Through District activities such as rides, social events and fund-raising we've met many fine folks and had good times. But a State Right's Organization (SRO) like Abate of Arkansas is more than that. Our prime goals should be safety and awareness, working with elected officials and either supporting initiatives that are positive for motorcyclists or nipping in the bud proposals that could negatively impact riders. This is the difficult behind the scenes work that not everybody sees. And because Arkansas is a relatively rider friendly state due to past actions by ABATE, many folks don't realize the constant threat to our rights and safety. I believe ABATE of Arkansas and the districts can maintain a balance between work and fun but we cannot overlook the main purpose of ABATE.
We have two grandsons that think it is so cool that their grandparents ride a motorcycle. I intend to insure that we can continue to ride safely and free in our pursuit of happiness and make sure my grandkids and yours have the opportunity to do so as well.
---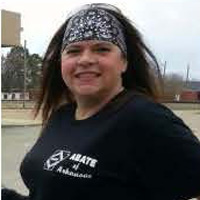 Secretary: Karen Stewart
Member of: District 18
Number of Years in ABATE: 7 Years
Positions held:
District 18 secretary for several years, state board representative for several years, ride committee chair for 2 years and event chair for 2 years.
Comments:
I have been married to my husband Keith for 25 years. We have two adult daughters Kacie and Kristina. We were introduced to A.B.A.T. E. by one of our daughter's friends who was a member. I not being a rider myself thought ok I guess we will check this thing out. Little did I know it would become a very important part of my life. I have met many wonderful people in this organization who share the same thoughts and have the same goals as I now do. I believe in A.B.A.T.E. and what it stands for. I am honored to be a part of such a great group of people. I have great friends in D18 and hope to acquire even more at the state level. I look forward to serving as your secretary.
---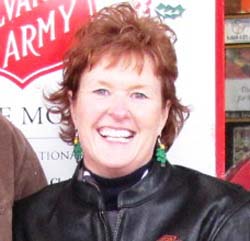 Member of:
District 2
Number of Years in ABATE:
5 Years
Positions held:
Currently: District 2 secretary
Comments:
About 5 years ago I moved from barrel racing to motorcycle's when I started dating Eric Turman. I have been riding my own bike for 3 years. I have been a member of ABATE District II for 5 years and secretary of District II for 4 years. I do not have any children but I do have 2 horses, 5 dogs, 2 barn cats, and 1 Blue Front Amazon Parrot. I have been a Farm Bureau Insurance Agent for 25 years and lived in the Jonesboro area for 28 years. I am originally from Morrilton, AR. I am very excited about my first year as treasurer and looking forward to working with all the districts. ABATE of Arkansas is a wonderful organization and I am looking forward to helping to make it grow. We all need to work towards maintaining our rights to RIDE FREE!!!
---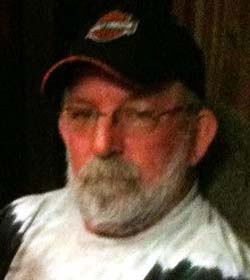 Member of:
D-20
Number of Years in ABATE:
10
Positions held:
Abate 20 Treasurer, State Board Representative & District Board Member. Previously served on Abate 20 Fallen Rider committee. Motorcyclist Affiliations: Genesis Riders-Christian Motorcyclist Association chapter in Pine Bluff AR.; AR Fallen Riders Association & MRF-Motorcycle Riders Foundation.
Comments:
Member of South Side Baptist Church. Employed by Entergy AR since 1981. Married to Elaine Hutcheson since May 2008. No children but, the proud owner of beautiful Red Harley Davidson Street Glide. I would like to see the biker community work together for the safety and advancement of biker rights. We do a lot of benefit rides, I feel that is important. But we do have to step out of our comfort area and fight for what we believe. We also have to get along with each other. I think it is important if you have an opinion to communicate it in a rational & educated manner. If we can't get along together how can we expect the non biker community to get along with us? I am looking forward to serving the state of AR Abate this year. I've enjoyed getting to know a lot of good people with big hearts & compassion for my rights & safety. Please pass the word the importance of Abate, riders education & safety. We cannot expect someone else to do the work for us. Sleeves up & let's get to work. I am looking forward to retiring; I work a lot of overtime. I am ready to relax and do some riding. I have been riding street bikes about 12 years. The street glide is my first Harley. Have really enjoyed the longer trips, fits me well.
---